Breed's of cows
On our planet there are from two hundred to three hundred cows (some sources without further ADO put the number at 250 and wash my hands on it). Each breed worthy of a separate article, so to be honest, we have dazzled and discouraged when it comes to giving an overview of at least the most common types. In fact, how can you determine the most common types of cows, if she, like the horse, accompanies the person all his conscious history and have become an integral part of his existence in various parts of the globe? The importance of cows to humans is easy to follow world of folklore: the Russian peasants have long respected have called her "nurse", and the East African tribe, Watusi there is a saying: "Except the king, nothing is more important than cows", from which it can be stunning in its truthfulness conclusion: cow – she and in Africa a cow...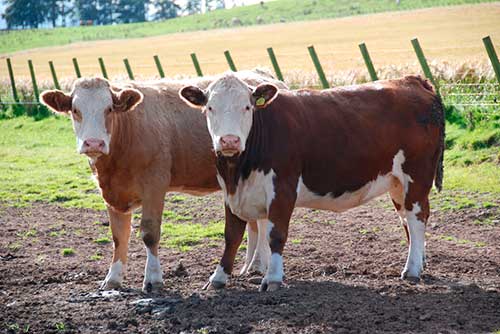 Meat breed cows
All types of cows standard combined into three groups: dairy, meat and combo (meat and dairy). However, given that this material is largely a study review, the authors of this article decided to start from the geographical prevalence of certain breeds.
European cow types
By this term we understand as derived in Europe and the most common species in agriculture of different European countries, regardless of meat they are, or combined meat and dairy. However, it should be noted that many of the following species are common not only in Europe but also successfully acclimatized in the CIS countries and the American continent.
So, to the European species are the following breeds of cows:
Of the Royal (or Jersey) breed
Salers breed
Aubrac breed
Shorthorn breed
Charolais breed
Ilirska breed
Swiss breed
Simmental breed cows
The list does not accidentally open Simmental (old name "Berne") rock. Switzerland is famous for its breeding work (suffice it to recall the famous Swiss goats), but in this case, the selection multiplied by the age-old tradition: the Simmental breed is considered the oldest cultural breed. According to one version, its roots date back to V century ad, on the other – by the first century BC and even earlier, to the time of the legendary torfyanikovaya cattle, the remains of which archaeologists still find in the ancient bounds the Swiss settlements. The Simmental breed as the representative of meat and milk direction is characterized by a high yield, rusticity and ability to adapt to various climatic conditions. These properties have become the reason for its popularity in several countries around the world. With the participation of simmentals created a number of types that have different purposes. In addition, the continued improvement of the "parent" species, so that today there are two types of Simmental breed: meat and meat-milk.
Characteristics of the Simmental breed are:
ratnamala: from pale and mottled in combinations of red. The color of the head is mainly white.
average weight of newborn calves is 42 kg., eight month old heifers – 343 kg and steers at the same age – up to 500 kg cows is 550-600 kg, bulls – 900-1200 kg.
the average yield is 3-3,5 thousand liters of milk fat content of 3.7 – 3.9 percent. Some cows of the record-holder is able to produce up to 52 liters of milk per day, but the largest yield came from a cow named Lady (Hungary) is 70.1 per liter. However, it should be said that the yield of Simmental different zoning varies considerably. The level of milk production is affected by the degree of acclimatization and the features of the care (however, it is typical for all breeds of cows).
slaughter yield of meat at slaughter is 55-60%, meat high calorie, fatty and niewolnica at the same time.
Looks like this beauty can be seen in this photo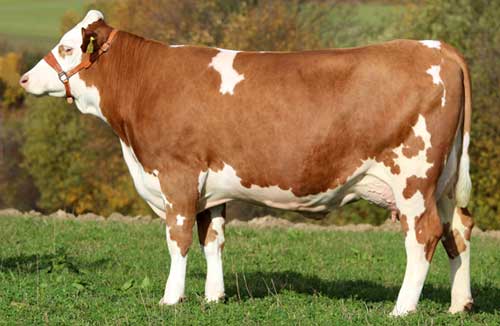 a Simmental Cow
Hereford cows
Hereford (brown) cow meat refers to the orientation. When the fattening weight bulls in the bottom-hole age is 900 kg, the cows of 600 kg. meat Yield at slaughter is 58-62%, sometimes 70%, about the same as it is sufficient to say only that it belongs to the category "marble". The only disadvantage of this breed is late bloomer, but for the sake of marble meat to her to forgive all.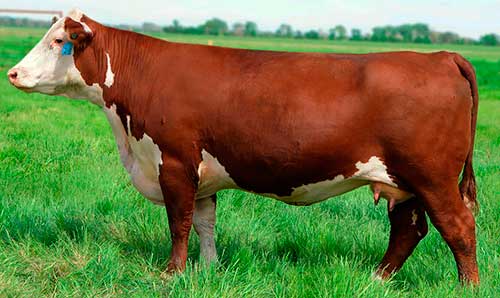 Hereford cows
the Royal (or Jersey) breed cows
Royal (or Jersey) breed – the gift of world livestock from the island of Jersey (UK). It is known from the XVII century and is one of the oldest cultural breeds of Britain. Due to the growing conditions its representatives have adapted to the most different climatic conditions, which certainly is a huge plus. The list of her virtues also includes the ability to graze, not treading grass, which, unfortunately, sin other breed. At the same time fearful and nervous cows jursici why it is enough complex in content and requires a special approach. Other characteristics are as follows:
light red, sometimes with a dark shade of the suit.
average milk yield per lactation 4-6 thousand liters. Milk is extremely fat content of 5-6%, sometimes found even vosmibratov fat, because of what this breed was called "Royal".
weight of cows depends on where it is diluted. If in England it is 360-400 kg., in the United States, where, under the influence of the conditions appeared more strong type of rock, it reaches up to 450 kg Weight bulls also tied to place of residence and ranges from 600 to 750 kg.
weight of a newborn calf – 18-22 kg.
In addition to their homeland and the UK, Jersey doing popular in some European countries and in the United States. There are individual instances of this breed in Russia, but locally they are concentrated only in the suburbs.
Royal (Jersey) breed cows
French meat breed Salers
French meat breed Salers, known since the XIX century, were used in three ways: as a source of marble meat (its output is 60-65%) as draft power and for working on farmland. In the latter two roles, she still serves faithfully on some farms. Cow milk yield is low – only 1.8 – 2 thousand liters per lactation, and today the French cattle are grown for milk, only 5% of the total population of this breed. However, he then made the best varieties of French cheeses known all over the world. In addition, the cow Salers breed hardy and prolific, it is diluted in 25 countries on all continents except Antarctica.
Salers
beef breed cows Aubrac
Aubrac is another meat breed "born" from France, but perfectly adaptable to any climate and different endurance, unpretentiousness to food (the ability to eat roughage) and a good sense of the herd. In addition, cows have this kind of wonderful maternal instincts. Meat yield at slaughter is quite high – 63%.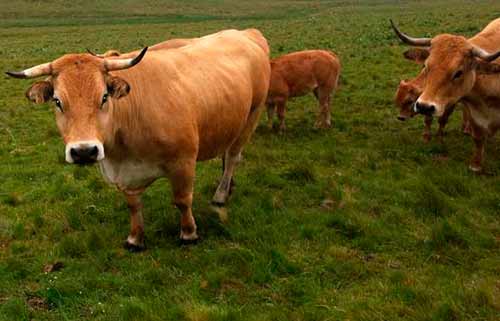 the Aubrac breed of cattle
Breed Charolais
Another meat "greetings from France", bred in 50 countries and is the largest type of this orientation is the Charolais breed. Its meat has a high (20%) protein, which is highly regarded by gourmets, and the greatest yield at the mine – 80-81%.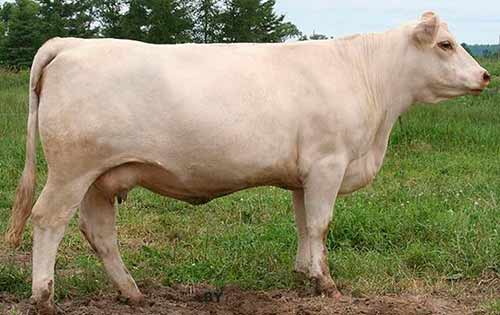 the Charolais Breed
Shorthorn cattle breed
Shorthorn breed is the most popular British beef breed, known since the XVIII century. Its distinctive feature is the form small horns. Just like her French colleagues, with whom she, by the way, not just crossed, it is distinguished by precocity, high productivity and 66-67% of the release of "marble" the meat during slaughter. The only drawback – low fecundity does not detract from all of those virtues for which the breed is highly valued among breeders.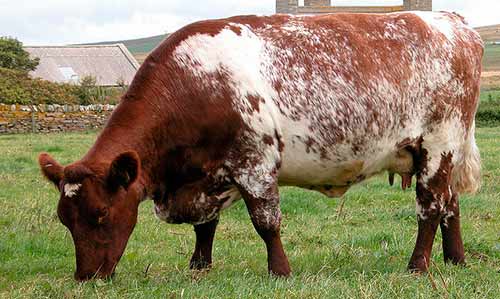 Shorthorn breed
Golshtinsky breed cows
The Holstein breed can be called "citizen of the world": bred in Holland, our best performance she received in the US and Canada. It is often used to improve other breeds to improve the fat content of their milk and increase its volume. No wonder that this breed gave the highest number of dairy recordsmens. So, in 1983, was officially recorded record, owned by the cow-holstine named Beecher In Ellen: per lactation (305 days) she gave 25248 liters of milk fat content of 2.82%; average yield was 82.7 liters per day, and the amount of fat to the total reached 712 pounds.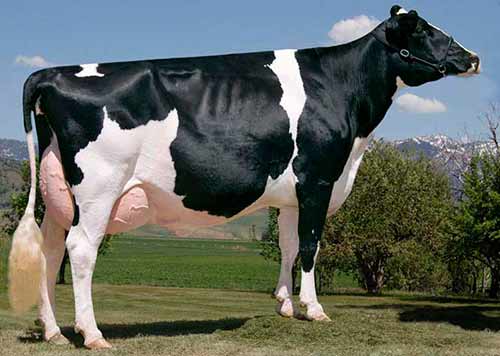 Golshtinsky breed
In addition, for the Holstein breed is characterized by:
weight of cows 700-750 lbs., sometimes up to one ton, the weight of the bulls – 1250 kg.
weight of newborn calves of up to 40 kg calves – up to 45 kg.
the suit is mostly black-and-white, although there are women red-colored suit. On the background of the dominant it is a recession and something of a reminder that black-and-white – second color gostinki. This colour of the breed was obtained in the result of a long breeding breeders within a species, in this case, was not attracted by any one cultural or native breed. It is a unique phenomenon.
Ilirska breed
Ilirska breed, "a native of" the Scottish County of Ayr, was born at improving the local breed of Dutch, Flemish and alternatly rocks, which at one time was very popular in the British Isles. In the mid-twentieth century "newborn" appeared in the USSR and immediately caught on thanks to its excellent adaptability to the local harsh climatic conditions. In our time, the number of goals ilirski breed is 3% of the total number of cows grown on the Russian open spaces.
General characteristics ilirski breed are:
red-colored suit.
weight babies – about thirty pounds; the weight of one-year-old is 240-280 lbs. To 15-17 months heifers usually gain 350-360 kg., and at this time they can be the case with the bull.
weight of cows – 450-570 kg, bulls 800 kg.
meat yield at slaughter 50-55%.
sredneetazhnye yield of 6 to 7 thousand liters of milk with fat content of 4.2 – 4.3 percent.
feature milk – the presence of fat globules.
Ilirska breed
I should say that Ilirska cow complex in content because it has a difficult character and sometimes fearful and aggressive. Like Jersey doing, it requires a special approach that pays off handsomely. Another feature is its low tolerance of heat, due to which this breed is very difficult to adapt to the climate of the southern countries.
shvitskaya breed
Completes our semi-concise overview of the main European breeds of cows Schwyz breed, related to the combined (or universal) species – the most profitable for milk and meat "in one bottle". "Born" in the Swiss Alps, it is widely spread in many countries, in Russia came in the second half of the XIX century and first bred only in the big landlords ' farms, which could provide it with a good hearty feed. During the Soviet era the breed is not only maintained but also improved, increasing productivity, improving the exterior and increasing the weight.
Within the species there are three types: monochromacy, milk and dairy, which is reflected in the features of body Constitution. Most common first type.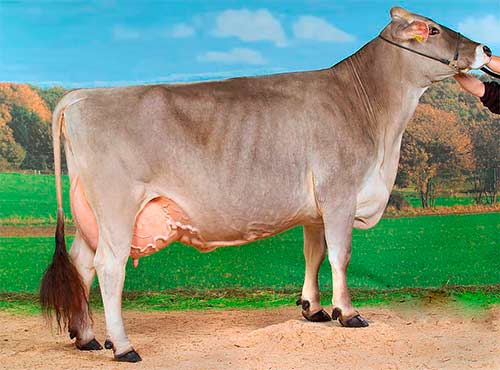 shvitskaya breed
Signs of a brown Swiss cow are as follows:
brown suit the entire spectrum (from light grey to dark brown).
average weight of cows is 550-600 kg, bulls – kg 800-950 Newborns usually weigh 33 to 40 pounds, and at the age of one year – up to 250 kg.
meat yield of 50-60%.
the average annual yield of 3.5 to 4 litres of fat of 3.7 – 3.8%.
distinctive feature is a strong immunity to several diseases.
Breeds of cows post-Soviet space
By this term we mean breed, bred in Belarus, Russia and Ukraine, where according to the tradition, they are common to this day. These include:
black-and-white.
red steppe breed.
Kholmogory.
Jaroslavl.
Kostroma.
Kurgan
Bestuzhev.
Alatau
Lebedinskaya
krasnogorovsky tribal.
Sychevskiy
Black-and-white breed
The official year of the "birth" of black and white milky appearance is recognized year of registration — 1959. It was preceded by many years of experimental crossbreeding of indigenous cows from various regions of the USSR with the Swedish black-and-white cow. We can say that in the end the experiment was a success: the birth of rock, with the same success spread throughout Russia and also in Ukraine, Belarus and Uzbekistan.
Black-motley breed is heterogeneous because it reflected the conditions of feeding, housing and inheritance is the "parent" of local breeds. Also inside it there are several types and groups that have differences among themselves in conformation, milk yield and fat content. The General breed characteristics are as follows:
weight of adult individuals 420-550 kg., on the breeding – up to 600 kg in cows and from 800 to 1100 kg. – bulls.
calf for fattening by 16 months able to gain weight 420-460 kg. with an average increase of one day over one kilogram.
meat yield is 50-55%,
the average yield of 4-6 thousand liters per year depending on the area where it is diluted. Milk fat content of 3.8 – 4%.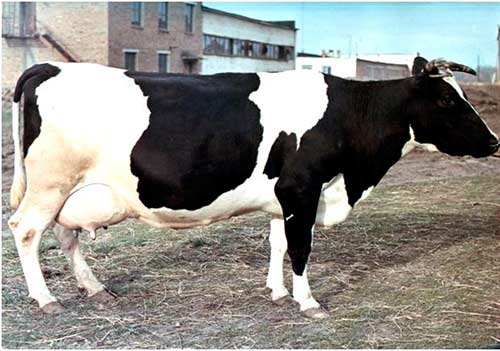 Black-and-white breed
Red steppe breed
Red steppe breed is one of the most common in Russia, where largest is in second place, and Ukraine. It appeared as a result of improvement of the grey steppe cows angelnskim ostrinski and red bulls and then work on it to improve productivity in the hot climate of the South Ukrainian. The red steppe breed related to dairy direction with some signs of meat can be grown in arid regions of Siberia and the Caucasus, Uzbekistan, Kazakhstan and Moldova. The species has a distinctive dairy qualities, evident in the conditions mentioned regions a strong immune system and endurance. Work continues to this day, but even now it boasts impressive data:
weight of newborn calves is 36-38 kg and adult cows 450-550 kg., bulls 800-900 kg Daily gain of the calf in six months can reach up to one kilogram.
slaughter yield tasty quality meat 53-54%.
average yield – 4– 5, 5 thousand liters per year.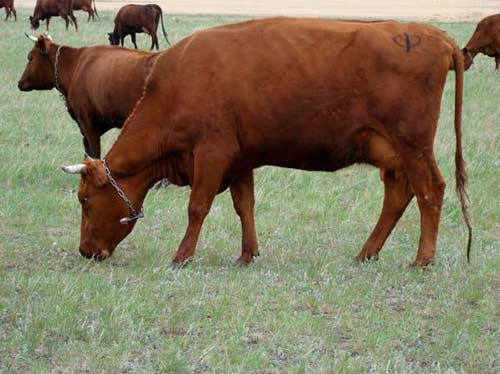 Red steppe breed
Kholmogorskaya breed
The history of the Kholmogory breed is lost in the mists of time. It is known for certain only two things: first – she comes from the Kholmogory district of the Arkhangelsk region that gave the world M. V. Lomonosov; the second it was known in the XVII century, when the University nobody never heard of. The most typical suit of all kind – black-and-white, although there are solid black, and red and white representatives. With good content, the milk yield of the breed is 3.2 to 4 thousand liters per lactation, but there are cases and higher yields – up to five thousand liters per year with a fat content of 3.8%. The weight of Mature cows is usually in the range of 450-500 kg., bulls – 900-1200 kg. meat Yield at slaughter is usually 53%, however, it is possible to reach the level of 65% (there were such cases), which is comparable to the best foreign meat breeds. Perhaps it is because of this versatility and potential of the Kholmogorskaya breed is so highly valued and cultivated in several regions of Russia.
Kholmogorskaya breed
Yaroslavl breed
Yaroslavl breed created in the nineteenth century, known primarily by his remarkable exterior. Whatever suit was cow within the breed distinguish between black, black-white, red, black-white and red-white color, her eyes are always outlined with a black rim, which the cow has a very intelligent and thoughtful. It is considered one of the best Russian dairy breeds due to the ability to produce up to 5 thousand liters of milk fat content of 4%. Experts-breeders, talking about the cow-yaroslavka, always emphasize its excellent ability to acclimatization, the response to the affectionate respect and diligent care. Sometimes you can find criticism of this breed, but it mostly lies in the plane of the comments on the exterior and insufficient care at an early age, which, of course, negatively affects the development of the animal. If you follow all the rules of feeding and the maintenance, the reason for such criticism is not.
Sometimes the Yaroslavl breed is used for breeding new species. For example, when it is crossbred with the native of the Kostroma region, Ilgauskas and Swiss in 1945 the light was "born" Kostroma breed related to dairy-meat direction. As befits a good heiress, she has incorporated the best features of these four types and characterized by rapid growth and a very decent indicators of milkability and mesnosti:
average annual milk yield of 4-5 litres, milk fat is 3.9%. The species belong to two record milk production – 14115 L. and L. 14203 over the lactation period.
when slaughtering the meat yield is less than 65% meat is of excellent taste.
weight cows 550-650 kg., bulls – 850-900 kg, castrated bulls for fattening in a year and a half – 450-500 kg.
to breed
Contain the breed is mostly in Belarusian and Russian farms.
Kurgan breed
Another young breed, officially recognized in 1949, is the Kurgan breed. This is actually the case in the domestic Soviet-Russian farming: declared as a breed of a meat direction, it gives annually 3 -3,2 thousand litres of milk is four percent fat, what kind of a world-class achievement. In principle, this is not surprising: in its creation "was attended by" representatives of 8 of the best domestic and foreign breeds, which include shorthorn, Simmental, Yaroslavl, red steppe... as a meat breed cow"kurgancha" can give when slaughtering 55-65% yield tasty quality meat. This combination of two types of productivity and excellent adaptability to low temperatures this breed is very highly prized among breeders.
Kurgan breed
Bestuzhev breed
But the real record-holder for average annual yield of milk of milk (up to 7-8 thousand litres) can be called Bestuzhev breed. However, this figure is not striking: when it was created (the breed is known since the nineteenth century) was used by Dutch, Simmental and shorthorn breeds. In addition to milk production, it also boasts a good (50-60) percentage of meat yield at slaughter, and its taste. The bestuzhevka, characterized by simplicity in feeding and content, grown in the Samara and Ulyanovsk regions of Russia, Bashkortostan and Tatarstan.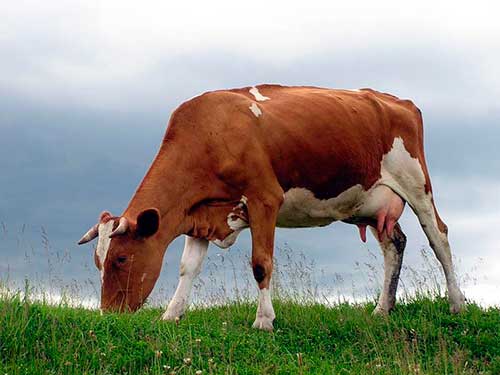 Bestuzhev breed
Krasnogorovsky breed
Of the most popular domestic breeds of milk and meat direction can also be called krasnogorovsky combined tribal and Alatau breed. Krasnogorovka (aka – red gorbatovskaya, Nizhny Novgorod), created with the participation of the Tyrolean cattle and local Oka, has a high immunity to several diseases, good adaptation to local climate, good meat yield at 61% -62%, average yield (2755 litres of milk per year). Most livestock are concentrated in Central Russia, Mordovia, Chuvash Republic and Novosibirsk region. Alatau breed, created with the participation of the local Kyrgyz and the Kazakh of cattle, kostromenko and Schwyz, and the most common in Kyrgyzstan and Kazakhstan, boasts a relatively low percentage of fat in the meat to 3.8%, up to a maximum of 4% – slaughter yield in 53-60%, the average yield of 4-4,5 thousand liters per year. The meat is of good quality, however, in taste somewhat harsh, but its nutritional value because of this, no loses.
Lebedinskaya breed
Impossible to pass and by Lebedinsky meat and dairy breeds of cows – the gift of Ukrainian breeders world cattle. Brought it in the Sumy region (Ukraine) in the 50-ies of XX century by crossing Ukrainian grey breed brown Swiss bull and the subsequent selection of the best hybrids in themselves. This effort began before the revolution, in 1904, to improve the yield of local gray rocks, and was almost lost during the Second world war. Fortunately, valuable livestock were evacuated deep into the Soviet Union, for which cows hundredfold repay the person, remained in evacuation Lebedinskii breeding cows were given to 68 liters of milk per day, which was a great help and in many ways the salvation for starving the Soviet rear, working on the needs of the front. In our peacetime Lebedinskaya breed is characterized by high yield (average yield – 5-6, often 7 thousand liters and above a fat content of 3.8 – 3.9 percent), and meat content (average weight of 500-600 kg., individual instances reached 760 kg and the carcass yield at slaughter is one of the high – 60-62%).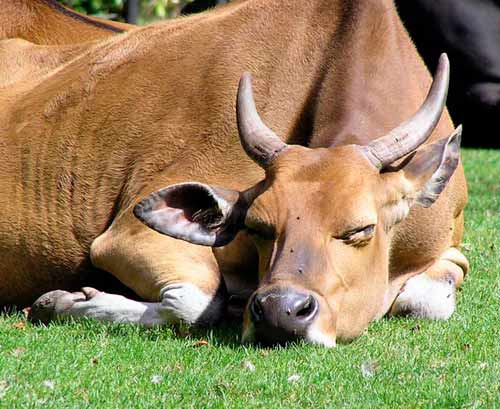 Lebedinskaya breed
Finally it is worth saying about Sychevskiy the combined form of cows – at least, so once again a good word to remember the Simmental breed of cows with the story which we began this material, grown to obscene volumes. To the creation of sychevskaya breed derived in the mid-twentieth century at Smolensk, Simmental has a direct relationship, because it was crossbred with local species to improve agricultural productivity. In the end, Smolensk breeders have colocalize to the fact that a new breed recognized worldwide, however, the best way she, as a true patriot of Smolensk, manifests itself at home. Slaughter meat yield is 62%, the yield is 3.5 – 4.5 thousand liters per year, fat content of milk – up to 4%. In terms of content it is no different from his famous "mother", is that young Chicks of this species must be abundantly fed.
In conclusion
Unfortunately, many worthy species remained "behind the scenes". Maybe someday we'll get back to the story about them.